Orb Explorer: New Blockchain Browser for Gamers and Collectors is Here!
EverdreamSoft is releasing Orb Explorer: a new blockchain browser tailored for collectibles and game items. Currently compatible with Ethereum and Counterparty, Orb Explorer is a practical example of EverdreamSoft's multi-chain approach. 

The swiss company Everdreamsoft has launched today "Orb Explorer", their new blockchain browser tailored specifically for collectibles and blockchain game items. Currently in Beta, Orb Explorer is now compatible with Ethereum and Counterparty (Bitcoin) and lists about 25 collections, some others will be added shortly.
Human Readable Blockchain Browser

A blockchain browser allows you to search a specific blockchain, e.g. Ethereum or Bitcoin for transactions, addresses, tokens and other activities. While most of the existing browsers are serving you a rather indigestible sequence of characters, Orb Explorer delivers human readable results, with emphasis on the visual aspect of each blockchain element.
"Our goal is to simplify the relation between humans and blockchain tokens. EverdreamSoft aims at bringing Crystal Suite to the next level: to become the "Google of tokenized assets", commented Shaban Shaame, CEO and founder of EverdreamSoft.
Multi-chain Approach

Orb Explorer is part of "Crystal Suite", an integrated suite blockchain-based tools officially launched by EverdreamSoft last summer. Crystal Suite is "blockchain agnostic" which means it takes into account the existence of multiple main- and side- chains and considers their co-existence and possible interoperability.

Features
Explore and discover

thousands of Orbs and assets across different blockchains

Browse

different

collections of game items and collectibles
View

the

balance

of Orbs owned

by a specific blockchain address

See transaction history,

filtered by collection, address or token

Search

for an address or an Orb

Web3 connection
Link

your

wallet to Spells of Genesis game account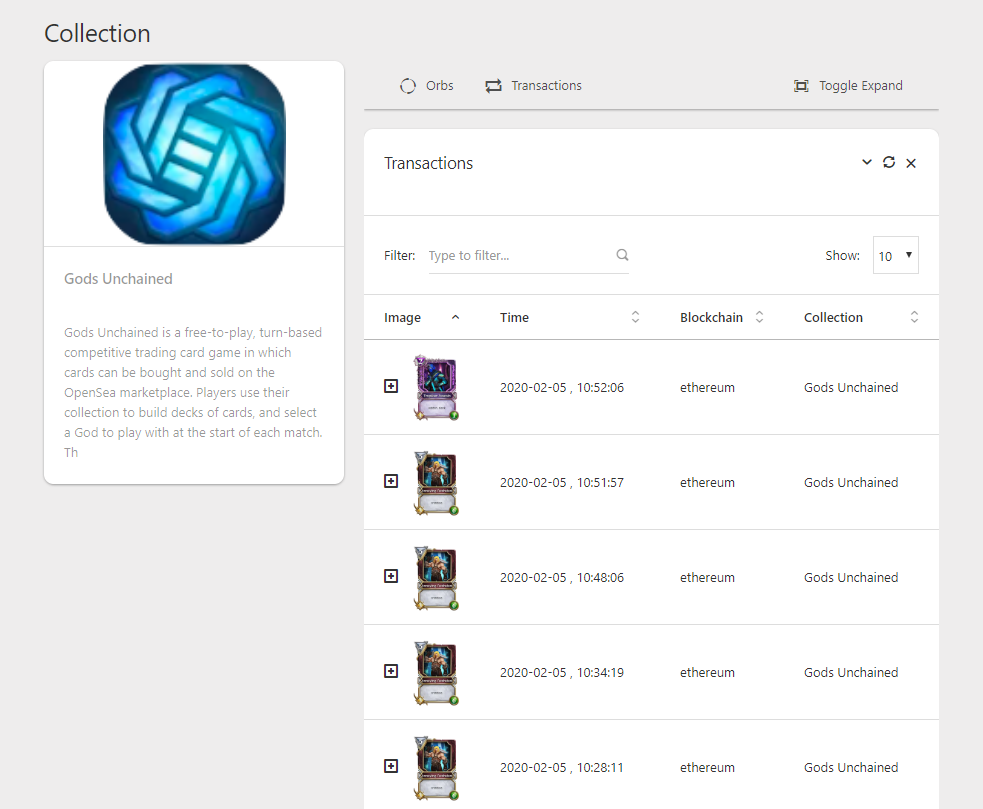 Upcoming Features
Market & Exchange
More information

about Orbs and collections

Social features

– leaderboard, share…

Profile

customization
and more…
Another release with several minor changes and improvements is already scheduled for the upcoming weeks.
If you are an owner of a game or collectibles related smart contract and you would like it to be listed on Orb Explorer, please contact the team at [email protected], or on social media.
What is an "Orb"?

"Token" is a digital entity issued on a blockchain. Token contains blockchain data only, such as the token name or supply. By "asset" we understand additional information (meta-data), which can be added to the token, such as an image or in-game statistics.
"Orb" is the combination of both elements above: blockchain data represented by a token, linked to a visual asset, with some additional information. One token can be part of several different Orbs (if combined with different assets), and the same asset can be linked to several tokens, and form distinct Orbs.
About EverdreamSoft
EverdreamSoft SA (EDS) is a swiss-based company founded in 2010 as a game studio. Since 2014 EDS has been pioneering integration and use of blockchain tools in the domains of gaming and digital collectibles. 
With their mobile game Spells of Genesis (SoG), launched in 2017, EverdreamSoft set the trend of "true ownership" of digital assets. Currently EDS is focusing on development of multi-chain tools for game developers, IP owners, players and collectors. The latest outcomes of their development allow SoG to become a multi-chain game.
EverdreamSoft is a founding member of Blockchain Game Alliance.
Press Contact
Markéta KORTEOVA
Chief Operating Officer, EverdreamSoft